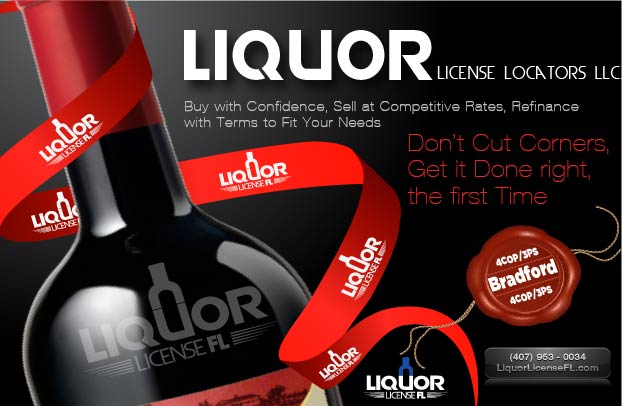 Get Your Liquor License in Bradford County
Bradford County is part of the Gainesville District, Florida and if you are planning to open a liquor selling business in this county, then you need appropriate licensing. Florida Liquor License can help you locate an available license in Bradford County, as we have the largest database of licenses across the State of Florida. We can also take care of the application process, from start to finish, having vast experience in dealing with the District's Bureau of Licensing.
DIVISION OF ALCOHOLIC BEVERAGES AND TOBACCO
BUREAU OF LICENSING
Gainesville District
240 N. W. 76th Drive, Suite #B, Gainesville, FL 32607
Phone: (352) 333-2515
Fax: (352) 333-2514
Why spend time, energy and even money on dealing with paperwork and jumping through the hoops of municipality, when you can get your license twice as fast with Liquor License Florida. We will take care of everything for you, including the transfer of license and we can also provide you with additional services, so that you can open your business as soon as possible.
Our experienced and qualified agents have helped numerous businesses get the license they needed and all the approvals required by the Bradford County, so that they would be able to sell alcoholic beverages, so we know exactly the steps to be taken in order to expedite the process. Below, you will be able to find the license fees applicable in the county, depending on the type of license you request.
License Fees – Bradford County
Series Provisions Annual Fee
1APS Beer (Package Sales Only) $56.00
2APS Beer and Wine (Package Sales Only) $112.00
1COP Beer (Package and Consumption) $112.00
2COP Beer and Wine (Package and Consumption) $224.00
3CPS Beer, Wine and Spirits (Package Sales Only) $643.00
7COP Beer, Wine and Spirits (Package and Consumption) $858.00
11C Beer, Wine and Spirits (Consumption Only) $400.00
Temporary Fees
All Transfers $100.00
New 3CPS $160.88
New 7COP $214.50
We can also help you apply for and obtain a SRX license in Bradford County, which stands for Special Restaurant License. The SRX licenses in Bradford are issued pursuant to Florida Statute 561.20(2)(a)4, which means your establishment must comply with the conditions of a bona fide restaurant, having 2,500 square feet or floor space, seating at least 150 and gaining 51% or more gross revenue from the sale of food and non alcoholic beverages.
As far as Special Hotel Licenses are concerned, the Florida Statute 561.20(2)(a)1 is governing the Bradford County, which means your hotel or motel must have at least 100 guestrooms and derive 51% or more of its gross revenue from the rental of rooms in order to be issued a liquor license.
District Departments Contact Information
Division of Hotels and Restaurants:
4161 Carmichael Avenue
3300 Bldg, 2nd Floor
Jacksonville, FL 32207
(850)487-1395
Bradford County Zoning
209 N. Thompson Street
Starke, FL 32091
(904)964-6280
We can help you serve your first drink faster and easier than any other alcoholic beverage license brokerage firm, enjoying a vast experience in the field and in dealing with the requirements and compliance conditions stated by Bradford County. Let us help you get licensed, so that you can focus on more important issues in opening your business. Contact us now and we will get you your Bradford County liquor license!
.