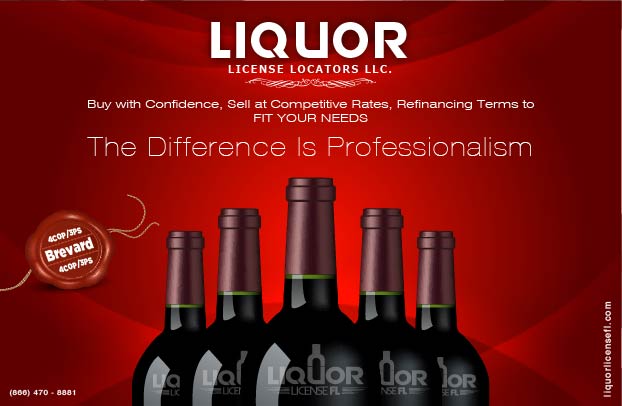 Brevard County Liquor License
If you were ever wondering where to find the best solutions for obtaining a liquor license in Brevard County, Florida, then you have come to the right place! Liquor License Florida can help anyone gain all the necessary information about liquor license laws and restrictions, as well as the documents and formalities that need to be undergone in order to gain the license.
Brevard County is home to over 500,000 residents according to the 2010 census and, thus, becomes the 9th most populated region in Florida. With such a vast pool of potential customers, it's no wonder that liquor licenses are so sought after. In addition to this, the Brevard County Commission has allowed the selling of hard liquor at 7 a.m. in the unincorporated area of Brevard. Furthermore, the plan supported by the same officials enables the Viera and Merritt Island restaurants to distribute Margaritas or Bloody Marys all throughout the Sunday brunch, thus making alcohol-selling rules far more permissive. The previous rules allowed the selling of wine and beer in the early morning, at 7 a.m., but limited the same procedure when it came to stronger drinks.
For further information and details about gaining a liquor license in Brevard County fast, feel free to contact us directly or read more on the official Liquor License Florida website, if you want to benefit from our offers of available licenses, as well as specialized advisors in the field.
License Fees – Brevard County
Series Provisions Annual Fee
1APS Beer (Package Sales Only) $140.00
2APS Beer and Wine (Package Sales Only) $196.00
1COP Beer (Package and Consumption) $280.00
2COP Beer and Wine (Package and Consumption) $392.00
3PS Beer, Wine and Spirits (Package Sales Only) $1,365.00
4COP Beer, Wine and Spirits (Package and Consumption) $1,820.00
11C Beer, Wine and Spirits (Consumption Only) $400.00
Temporary Fees
All Transfers $100.00
New 1APS $100.00
New 2APS $100.00
New 1COP $100.00
New 2COP $100.00
New 3PS $341.25
New 4COP $455.00
New 11C $100.00
Special Restaurant Licenses
In the Brevard County of Florida, each license is given pursuant to the official Florida Statute, number 561.20(2)(a) 4, which includes establishments and units that have a bona fide restaurant of 2,500 square feet measured for the floor space permanently covered, as well as other conditions, such as a seat capacity of 150 customers and a majority(exceeding 51%) of gross revenues coming as a result of selling food or other types of non-alcoholic drinks and beverages.
Special Hotel Licenses
These licenses are released in accordance with the 63-679 Special Act to any and every motel, hotel or motor court which has a minimum of 50 guestrooms. In addition to this condition, it is also mandatory for the accommodation facility to provide proof of the fact that it receives at least 51% of the total gross revenue as a consequence of room renting.
District Departments Contact Information
Brevard County Zoning:
2725 Judge Fran Jamieson Way, Bldg. A
Vera, FL (321)633-2070
Health Department Clearance
Brevard Environmental Health
2725 Judge Fran Jamieson Way, Building A
Vera, FL (321)633-2053
Health Department
Division of Hotels and Restaurants
Brevard County
North Tower
400 W. Robinson St., Room 802
Orlando, FL 32801
(850)487-1395
Division Of Alcoholic Beverages And Tobacco
Bureau Of Licensing
Brevard County is part of the Orlando District #6.
Orlando District #6
Hurston Building
North Tower, Room 709
400 West Robinson Street
Orlando, FL 32801
Phone: (407) 245-0785
Fax: (407) 317-7289
If you are one of the many persons in Brevard County who dreams about opening a liquor serving establishment, then do not let anything get in your way. The laws and regulations in the field are easy to be respected, if you know exactly what to do and this is where Liquor License Florida can be of tremendous help in gaining information and gathering all the necessary documents. Our liquor license brokers are waiting for your call!